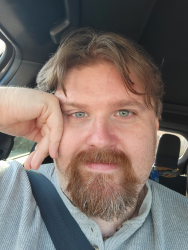 Phone:
Email:
Degrees and Certifications:
Mr.

Nicholas Krumm

G'day friends! My name is Nicholas Krumm and chances are I'm your student's Economics teacher. This is my third year teaching here at Plano East after a decade as a criminal law attorney.

My education began here in the metroplex, where I attended school in the city where I was born: Garland. I graduated from North Garland High School and went off to and graduated from the University of North Texas where I majored in Psychology with a minor in German. After my undergrad degree, I worked as a butcher for a year at a local Albertson's. Like many of our students, I still didn't know what I wanted to be "when I grew up". Thankfully, my amazing oldest sister persuaded me to attend law school. I attended SMU Dedman here in Dallas for three years, graduated and was admitted to the Texas State Bar in 2009.

Immediately, I took a job as a criminal defense attorney and I maintained that job for over 10 years. But there was something always pulling at me - I knew I wasn't where I was supposed to be.

Even from an early age, I had this feeling that I should be a teacher. I regret that it took me so long to get here, but now that I am, I'm 100% certain that this is my destiny. I love every bit of this career. But mainly, I love my students. I see in them the passion and the boundless possibilities that I faced at their age. I believe it's my life's calling to be here as they take that first step.

To our parents, thank you sincerely from the bottom of my heart for your trust, your patience and your amazing children. To my students, I love you dearly and I look forward to the extraordinary things you achieve.